DRAUGHT BOARD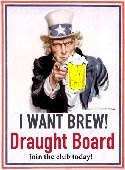 HOMEBREW CLUB

ABOUT THE DRAUGHT BOARD
The Draught Board is an AHA recognized club and one of the oldest Homebrew clubs in existence. The Draught Board was founded by the late Jim Weathers and his wife Georgia in the early 1970's. One of the original members of the club ( Lee Coe ) worked with Senator Alan Cranston to enact the first legislation that lead to the legalization of homebrewing in California. Over the years the Draught Board has evolved and grown, but remains small and technically oriented The Draught Board draws it's membership primarily from the San Francisco East Bay Area, but has members spanning the entire Bay Area from as far south as Gilroy, north to Oakland and east to Concord. The club membership is made up of brewers ranging from 20+ years to those just starting out, but in general the members are a pretty advanced bunch when it comes to brewing talents. We are always looking for new members and welcome any and all brewers at any level of expertise to join us in the fine craft of homebrewing.
CLUB CHARTER
To promote homebrewing and the appreciation of fine Beers and Meads through a program of education, competition, tasting and social activities.


2016 CHRISTMAS PARTY!
When: Sunday, December 11th, 3pm
Who: Draught Board members and associated dignitaries
Dinner will be catered again by Loosen Your Belt BBQ. We would like a couple of people to bring appetizers but not all because then we fill up on appetizers, let me know if you are interested in contributing. There will be a beer gift exchange with $25 max value. Non Draught Board members will be charged $20 per person. And we're sorry to say that this is an adult only party; no kids, no dogs. Please RSVP ASAP!!!
WHEN AND WHERE WE MEET
The meetings take place second Saturday of the month at 2pm. We welcome visitors and new members. We usually meet at the
2315 Verna Ct
San Leandro, CA 94577-4205
510-351-8920
CLUB OFFICERS
Jack Weldon, President
Mary Wieler, Vice President
Bruce Brazil, Treasurer
Ken Koupal, Secretary
Bob Riksheim, Steward
Don St. Denis, Webmaster
Email the Webmaster with Comments or Questions